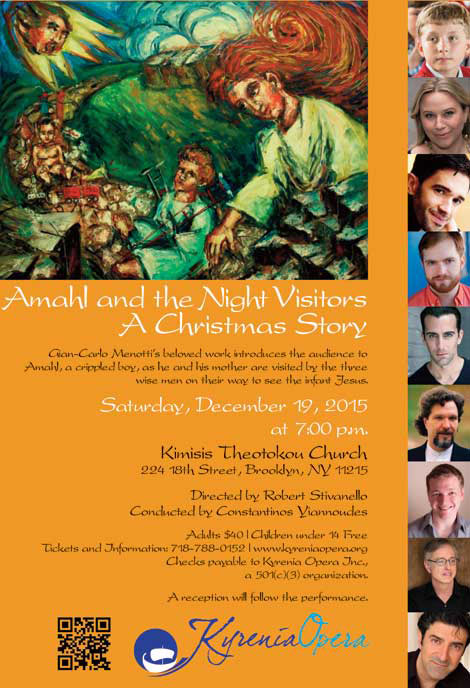 Kimisis Theotokou Church
224 18th Street, Brooklyn, NY, 11215
Kyrenia Opera Delights with Amahl and the Night Visitors at Kimisis in Brooklyn
The National Herald – December 23, 2015
NEW YORK – The Story of Christmas is about the greatest miracle. The story of Amahl and the Night Visitors is about one of the most beautiful: A child that was crippled becomes able to walk, his life's potential restored both by the Grace of God and the love and faith of those around him. Created by Gian Carlo Menotti in 1951 for NBC as the first opera specifically composed for television in America, Amahl was presented in a moving production of the Kyrenia Opera at Kimisis Church in Brooklyn on December 19. According to the invitation sent by Kyrenia Opera's Founding General Director and Conductor Constantine Yiannoudes, "the opera tells the story of the crippled Amahl and his mother, poor shepherds, as they are visited by the Three Kings on their way to visit the infant Jesus."
The adults and 12-year of Hudson Orfe were professionals and the rest of the children were drawn from two schools, including the Cathedral School. Everyone was especially moved by Orfe's performance as Amahl. The Archbishop pointed out that up front he could tell that the boy's costume made him be cold. "I was thinking 'how can he do it' – but you know that if you have a very warm heart, and you know what you are doing and it is a beautiful thing, then you don't mind the cold or any adversity." The Archbishop then thanked the families "of all these wonderful children" for supporting them as they develop "the beautiful tool that God gave us – music," and concluded with praise for the parish, which he noted was one of the favorites of his predecessor, Archbishop Iakovos of blessed memory.
During his remarks Archbishop Demetrios took a moment to tell the audience about the City of Kyrenia. "It is a very beautiful place. For years it was a tourism jewel, but now it is under Turkish army occupation," he said. He was thinking about it during the opera. "As we saw the miracle of the boy throwing away his crutches and walking and dancing, I see a day – soon – when Kyrenia will throw away the chains that keep this city down, and jump and become again a part of a united Cyprus," he said to a burst of applause.
"Kyrenia Opera is dedicated to bringing great vocal music from around the world to audiences in both the United States and Cyprus. With its home base in New York, Kyrenia Opera brings vibrant productions and educational outreach to children and adults in both countries," according to its website. "This year, Kyrenia Opera proudly announced the third annual Cyprus Vocal Scholarship Competition, which encourages and supports emerging vocalists from Cyprus. In addition to monetary awards, scholarship recipients receive invaluable mentoring from respected experts on classical singing." The audience enjoyed food, refreshments, and fellowship at the reception which followed the opera.