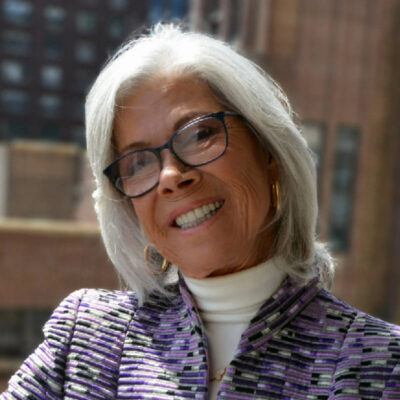 Fannie Petallides Holliday was born in Kyrenia, Cyprus. She emigrated to the United States with her family at the age of 14 and settled in Astoria, New York. She is a graduate of Bryant High School and the Plaza Business School. Her business career began with Audiovox Corporation in 1965; and by the time she was ready to begin on a new endeavor, she had achieved the position of Executive Vice President and was a member of the Board of Directors and a stockholder.
While still working for Audiovox, Mrs. Holliday founded the Greek daily newspaper Proini, in 1977. In 1985 she founded The Greek American, an English weekly which kept the non-Greek speaking population and most of the United States Congress well informed. Through these publications, she was able to continue her advocacy for justice for Cyprus and human rights.
Mrs. Holliday has been honored by many associations, including The Cerebral Palsy of Queens, Daughters of Penelope-AHEPA, American Cyprus Congress, The Pancyprian Association, The Cyprus Federation, Diocese of San Francisco and Queens Women Center Association, and was declared Honorary Citizen of Kyrenia. She is the first Greek-Cypriot woman to receive the Ellis Island Medal of Honor.
She has served on the boards of Trustees of St. Michael's Home for the Aged, HAWC (Hellenic American Women's Council), Hellenic Chamber of Commerce, St. Basil's Academy, as well as in many other community boards.
Mrs. Holliday is a leader in the fight to liberate Cyprus and bring peace to her homeland. Sadly, with the illegal occupation of more than one third of Cyprus by Turkish invaders, she cannot live free in her birthplace of Kyrenia.
Mrs. Holliday accepts the Kyrenia award in memory of the world's great composer Mikis Theodorakis and her beloved husband, Morton Holliday, who loved and listened to his music until his final days.
Kyrenia Opera recognizes Fannie Petallides Holliday commitment to the impact of the arts and arts education on humanity this 11th of June, 2022