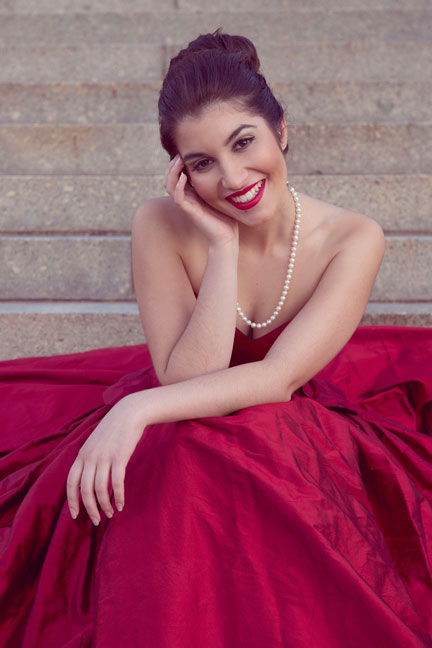 Supported by the Monash University Acclaim Italian Opera Ambassadorial Scholarship (Acclaim Awards 2013/2014), Christiana recently studied an intensive Bel-Canto course at the Accademia Teatro alla Scala, Milan under renowned coloratura soprano, Luciana Serra and Maestro Vincenzo Scalera. This opportunity led to being selected to perform in Luciana Serra's master class at Villa Bernocchi (Lago Maggiore, Italy) in late July 2014 as the youngest participant.
Earlier in June 2014, she sang the fiery role of Agata in Pergolesi's Il Flaminio (Teatro Pergolesi-Spontini) at Teatro Morricone in Jesi, Le Marche, Italy which marked her Italian debut. Among her recent achievements, Christiana was awarded the Italian Government Scholarship 2013/2014 for continued study of the Bel-Canto technique and repertoire, the Dante Alighieri Society Overseas Career Scholarship (2013).
Christiana has appeared as a soloist and interviewee on 3MBS Fine Music Melbourne, SBS Radio Greek/Italian and 3ZZZ Radio Melbourne and Rete Italia in promotion of opera competition finals, achievements and concerts as well as in the press for Neos Kosmos, Il Globo, The Melbourne Observer and even abroad in Germany (Saarburg und Nachbarn); "Eine grosse Stimme kehrt zurück – Christiana Aloneftis gibt ein Benefikonzert fürden TuS Saarburg (21/09/13).
Past awards include the Encouragement Award as the youngest finalist in the Acclaim Italian Opera Fellowship Awards held at Iwaki Auditorium, ABC Studios, Melbourne (2012) and a finalist in the Australian Music Foundation Awards (AMF) at Wigmore Hall, London (2013). She was the winner of Miriam Vernon Vocal Scholarship Award for most promising young singer and also a winner of the Miss Cyprus Concert Series Award which gave her the opportunity to perform a professional recital with collaborative pianist, Yiannis Hadjiloizou (Cyprus Academy of Music) in Nicosia. She has also been a finalist in the Armstead Singing Award, the Robert Salzer and Ringwood Aria Finals (Melbourne 2012/2013). As an undergraduate student at The University of Melbourne, Christiana was awarded the Lin Martin Global Mobility Scholarship & The Melbourne Languages Mobility Scholarship (Italian) for study abroad program excellence.