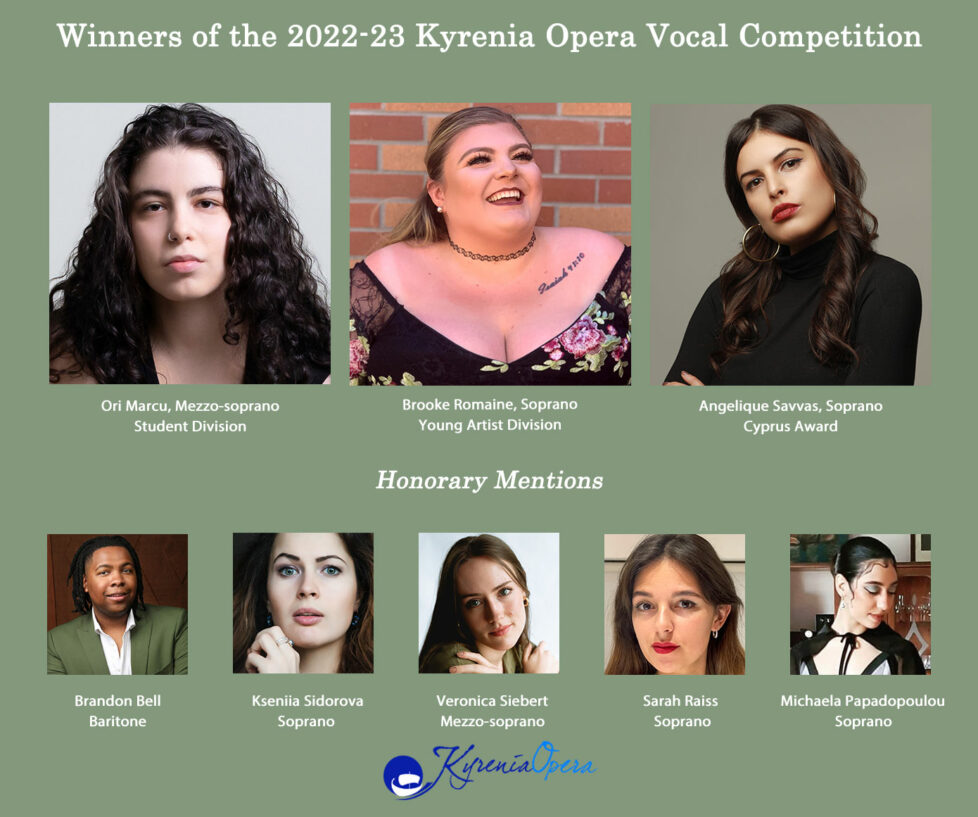 Dear friends of Kyrenia Opera,
We are happy to have welcomed singers from the United States and Europe, including Cyprus, for the 2022-23 Kyrenia Opera Vocal Competition. 
We are grateful to the esteemed panel of adjudicators who evaluated the singers' performances for beauty of voice, technical skill, musicality, diction, expression and potential for a professional career.
Benton Hess, International Opera Conductor and Vocal Coach
Martha Wade, Artist Manager
John Uhlenhopp, International Tenor
It is with great pleasure that we announce this year's winners. 
First place in the Young Artist Division
Brooke Romaine, Soprano
First place in the Student Division
Ori Marcu, Mezzo-soprano
Cyprus Singer Award
Angelique Savvas, Soprano
The following singers received an honorable mention:
Sopranos
Kseniia Sidorova
Sarah Raiss
Michaela Papadopoulou
Mezzo-soprano
Veronica Siebert
Baritone
Brandon Bell
We congratulate the singers who participated in the 2022-23 Kyrenia Opera Vocal Competition and wish them all success.
First place in the Young Artist Division
Brooke Romaine, Soprano
Brooke Romaine is an American soprano based out of Philadelphia. She currently studies privately with Darrell Babidge and is attending Manhattan School of Music for her Master's Degree this fall. Ms. Romaine annually attends Dolora Zajick's Institute for Young Dramatic Voices in Reno, Nevada. Brooke won an Encouragement Award at the Met Opera Laffont Competition in the 2023 District round. She graduated from Rowan University in 2018 with her Bachelor's of Music in vocal performance. 
First place in the Student Division
Ori Marcu, Mezzo-soprano
Ori Marcu is a mezzo-soprano based in Rochester, NY, studying with Katherine Ciesinski. Ori recently placed 2nd in the Friends of Eastman Opera Competition and has made many appearances in Eastman Opera Theater's recent seasons, including the roles of Bradamante in Handel's Alcina and Tara in Anthony Davis' Lear on the 2nd Floor. In 2023 Ori is participating in the Lakes Area Music Festival under the baton of Christian Reif. In 2022 Ori appeared in Amherst Early Music Festival's production of Daniel Purcell's The Judgement of Paris as Mercury under the direction of Grant Herreid and Julianne Baird. She also sang Cherubino in Matador Opera Workshop's Le Nozze di Figaro and in 2021 premiered the role of Lena in Ben Moore's new opera Gene and Tate. 
Cyprus Singer Award
Angelique Savvas Soprano
Angelique Savvas was born in Johannesburg, South Africa, and grew up in Paphos, Cyprus. Her journey as a Soprano began with Tiziana Sojat in Paphos who encouraged her to study abroad at the Vancouver Academy of Music in Canada. In 2016 she moved to Bologna, Italy to continue her studies as an operatic soprano. Miss Savvas graduated from the I Academic level with the highest points from the jury in 2021 at the "Giovanni Battista Martini Conservatory", Bologna, and continued her studies at the "G.Frescobaldi" conservatory in Ferrara. Miss Savvas specializes in Mozart repertoire. She is a student of  M° Costandinos Petridis.