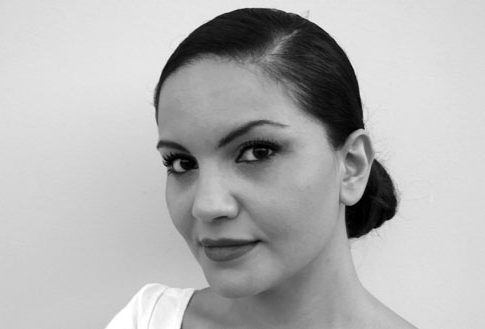 Kyrenia Opera is pleased to announce the winner of the 2016-17 Cyprus Vocal Competition: Eleni Aloneftou, mezzo soprano. The competition's prestigious judging panel was comprised for the third year of international baritone William Stone and Metropolitan Opera soprano Maureen O'Flynn.
First prize in the Young Artists Division is presented to mezzo-soprano Eleni Aloneftou, with an award of $1000.00. In addition to the monetary award, the singer has an invaluable opportunity for a consultation with the judges.
Born in Nicosia, Ms. Aloneftou studied at Prague's State Conservatory with Brigita Šůlcová. During her studies she joined the Philokalia Choir and she managed the music department of the Lyceum of Greek Women in Czech Republic. She is laureate of Nicholas Economou Foundation's contest (2007), Kyrenia Opera Contest (2015) and Mary Ioannou award (2016). Since 2011, she collaborates with "Cyprus Symphony Orchestra", "Cyprus Cultural Centre", "Cyprus Opera Organization" and accomplished Cypriot composers. In the meantime she attended seminars of classical singing in Italy and Cyprus and Greece. She took part in, W.A. Mozart's opera, "Cosi fan tutte" Andy's Skordi's "Ou! …Paca… Ra!"(Sculpture), P. Mascagni's  "Cavalleria Rusticana" (Lola) and G.Puccini's operas Suor Angelica (Zelatrice) and Madama Butterfly (Suzuki) and other numerous concerts in Cyprus, Greece and Czech Republic.
We congratulate Ms. Aloneftou and look forward to announcing the 2017-18 Cyprus Vocal Competition.