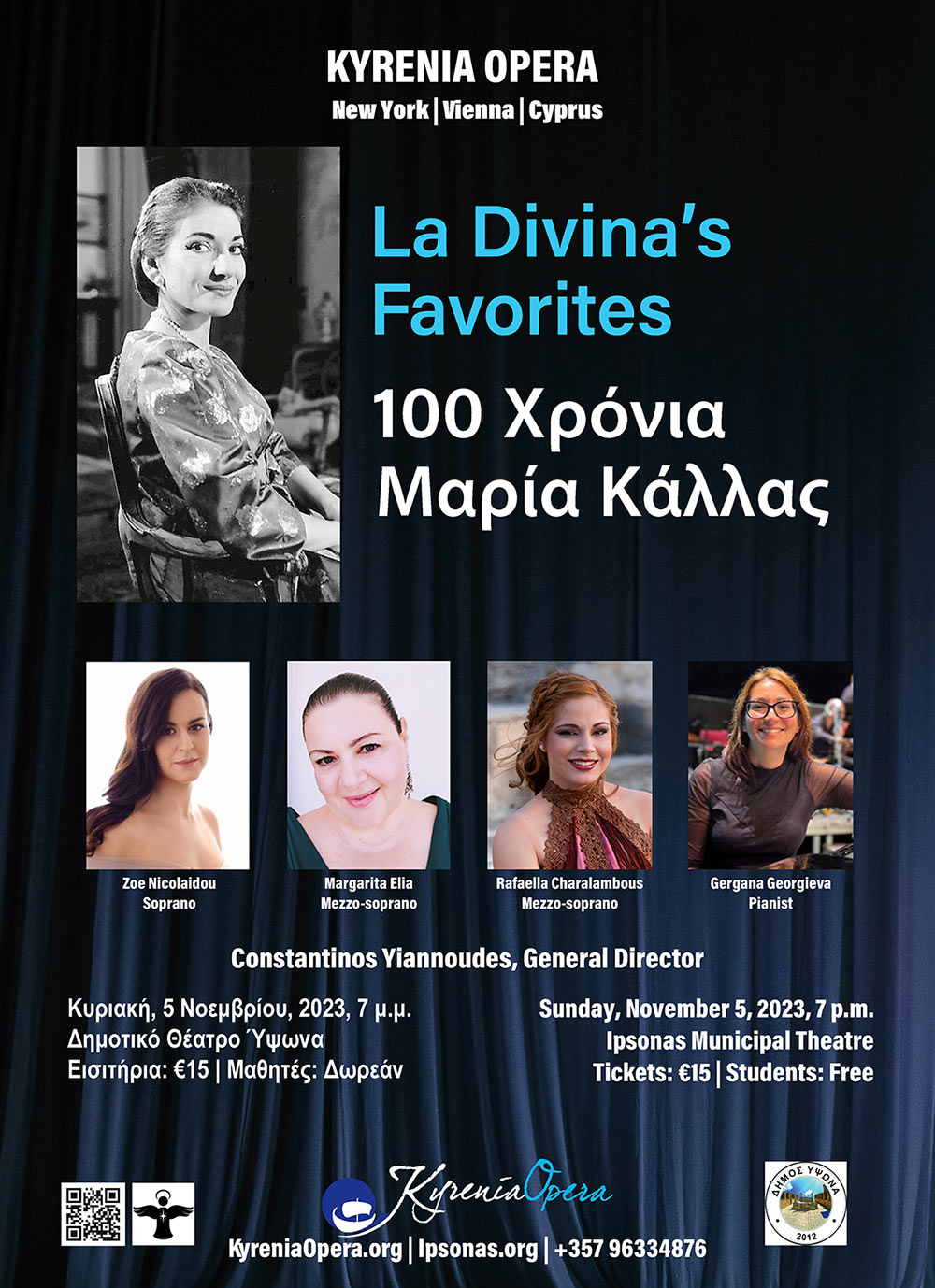 Ipsonas Municipal Theatre/Δημοτικό Θέατρο Ύψωνα
Arch. Makarios III 120, 4182 Ipsonas
Kyrenia Opera returns to Cyprus to present, La Divina's Favorites: 100 Χρόνια Μαρία Κάλλας, on Sunday, November 5 at 19:00 at Ipsonas Municipal Theatre.
Maria Callas was a Greek-American soprano and one of the most renowned and influential opera singers of the 20th century. She was known as "La Divina" and was praised for her dazzling technique, wide-ranging voice, and dramatic interpretations. This nickname was given to her by her fans due to her exceptional talent and stage presence. Callas had a vast repertoire that included works by Verdi, Bellini, Donizetti, Puccini, and Wagner, among others. She is considered one of the greatest sopranos of all time, and her recordings are still widely listened to today.
Starring:
Zoe Nicolaidou, soprano
Margarita Elia, Mezzo-soprano
Rafaella Charalambous, Mezzo-soprano
Gergana Georgieva, Pianist
Constantinos Yiannoudes, General Director
TICKETS
Adult Tickets: €15 | Students Free
Groups of 8 receive a 30% discount with coupon code:
30%off (Online only)
Add 8 or more ADULT tickets/seats and the coupon will subtract 30% from the total price.
Online: Your ticket(s) will be sent to your email address.
Phone: +357 96334876
At the door: The day of the performance.
Questions: info@kyreniaopera.org or +357 96334876