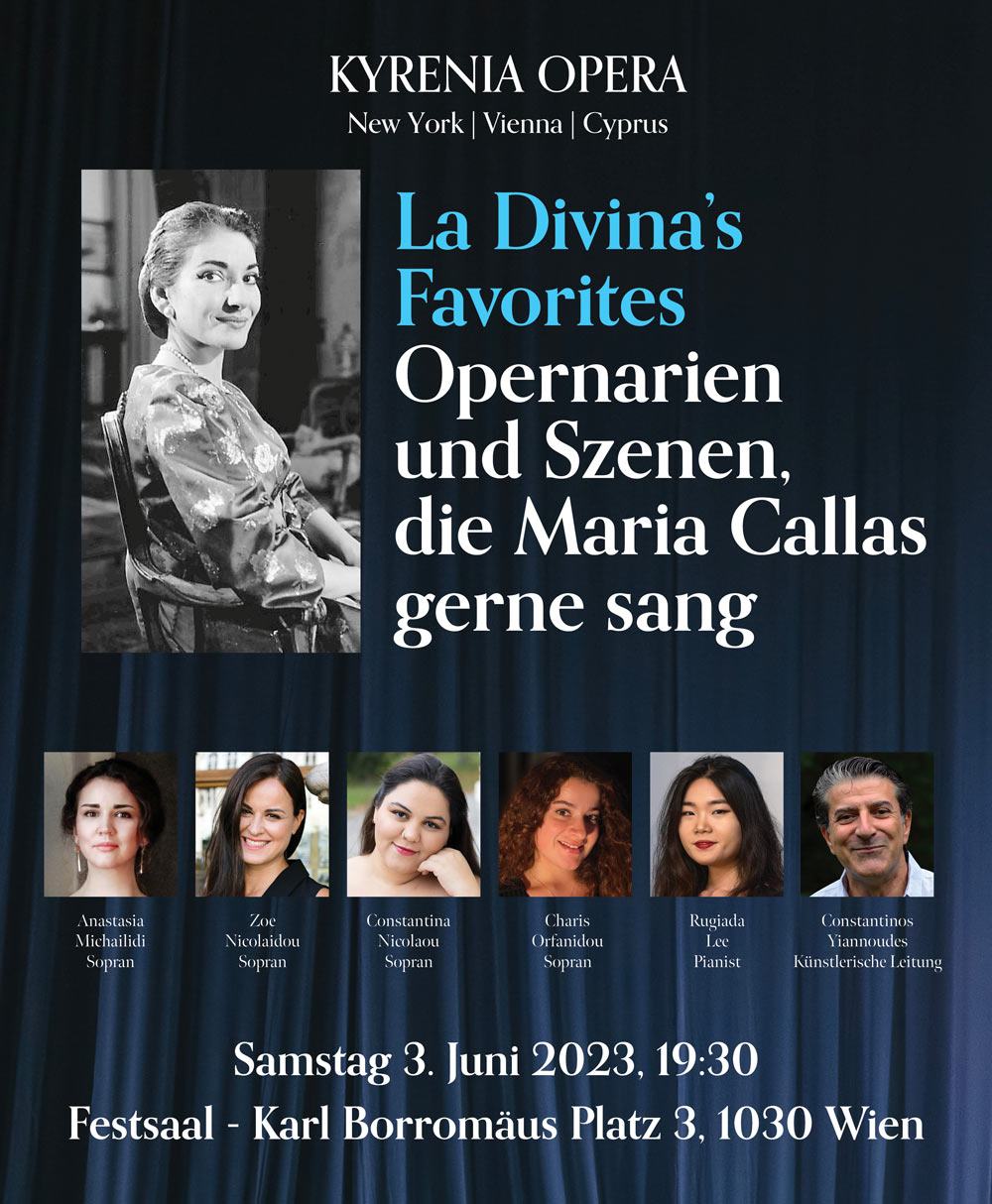 Kyrenia Opera
Festsaal im 2. Stock
Karl Borromäus Platz 3, 1030 Wien
Kyrenia Opera returns to Vienna to present, La Divina's Favorites: Arias and scenes Maria Callas loved to sing on Saturday, June 3 at 19:30 at Festsaal – Karl Borromäus Platz 3, 1040, Vienna (Duration: 1:15).
Kyrenia Opera präsentiert einige der schönsten Arien und Szenen, die Maria Callas gerne sang. Aufgeführt von Künstlern aus den Vereinigten Staaten, Europa und Zypern.
Maria Callas was a Greek-American soprano and one of the most renowned and influential opera singers of the 20th century. She was known as "La Divina" and was praised for her dazzling technique, wide-ranging voice, and dramatic interpretations. This nickname was given to her by her fans due to her exceptional talent and stage presence. Callas had a vast repertoire that included works by Verdi, Bellini, Donizetti, Puccini, and Wagner, among others. She is considered one of the greatest sopranos of all time, and her recordings are still widely listened to today.
Starring sopranos Anastasia Michailidi, Zoe Nicolaidou, Constantina Nicolaou and Charis Orfanidou, with a special appearance of the Kyrenia Opera Children's Chorus in Vienna.
Christos Apostolopoulos
Despina Sofia Athanasiadou
Aliki Samson
Fivi Samson
Celia Trinks
Enzo Trinks
Nicolaos Spiggos
Rugiada Lee, Pianist
Constantinos Yiannoudes, Artistic Director