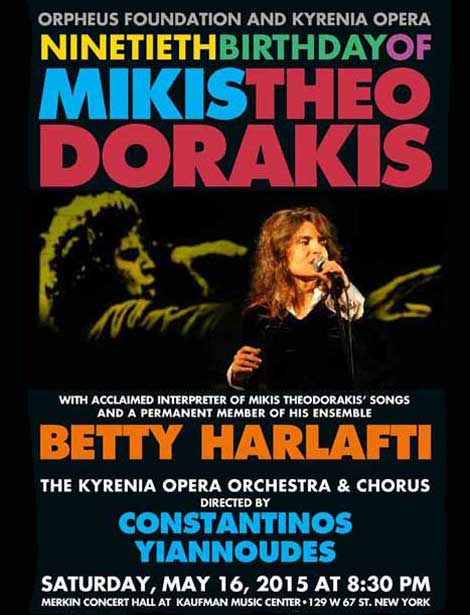 Merkin Concert Hall
129 W 67th St, New York, NY 10023
The Music of Mikis Theodorakis
Celebrating the ninetieth birthday of Greek composer Mikis Theodorakis, Kyrenia Opera and Orpheus Foundation present a special concert at Merkin Concert Hall in New York on Saturday, May 16, 2015, at 8:30 p.m. in honor of this great composer.
Mikis Theodorakis made his mark in the Greek discography and outside the borders of his country. One of the few Greeks who have identified music with the history of Greece, he collaborated with award-winning Greek poets such as Odysseas Elytis, Giorgos Seferis, Giannis Ritsos, and Nikos Gatsos. His artistic and social actions reflect his great love for his people.
The performance features singer Betty Harlaftis, member of the composer's orchestra, and the Choir and Orchestra of Kyrenia Opera. Under the direction of Greek Cypriot baritone and conductor Constantinos Yiannoudes, the concert will highlight notable and beloved works Theodorakis wrote for the concert stage and the silver screen.
Ο Μίκης Θεοδωράκης, ο κορυφαίος Έλληνας συνθέτης που εφέτος συμπληρώνει ενενήντα χρόνια ζωής σημάδεψε την Ελληνική δισκογραφία και κατάφερε να περάσει τη μουσική του έξω από τα σύνορα της χώρας του. Ένας από τους λίγους Έλληνες που ταύτισαν τη μουσική με την ιστορική διαδρομή της Ελλάδας. Συνεργάστηκε με βραβευμένους Έλληνες ποιητές, όπως ο Οδυσσέας Ελύτης, ο Γιώργος Σεφέρης, ο Γιάννης Ρίτσος και ο Νίκος Γκάτσος. Η καλλιτεχνική και κοινωνική του πορεία και δράση εμπεριέχουν  την αγάπη του για τον λαό του.
Με την ευκαιρία των 90 χρόνων από τη γέννηση του, οι πολιτιστικοί οργανισμοί Ορφέας και Kyrenia Opera παρουσιάζουν μια συναυλία στο Merkin Hall, το Σάββατο 16 Μαΐου 2015, προς τιμήν του μεγάλου αυτού Έλληνα δημιουργού, με την χαρισματική ερμηνεύτρια και μέλος της ορχήστρας του συνθέτη Μπέττυ Χαρλαύτη και  τη Χορωδία και ορχήστρα του Kyrenia Opera, υπό τη διεύθυνση του Έλληνα Κύπριου βαρύτονου και μαέστρου Κωνσταντίνου Γιαννούδη. Πρόκειται για μια συναυλία η οποία θα συμπεριλαμβάνει τις ωραιότερες στιγμές του Μίκη Θεοδωράκη, που θα μας χαρίσει την υπέρτατη αξιοπρέπεια και δύναμη της Ελληνικής Μουσικής.