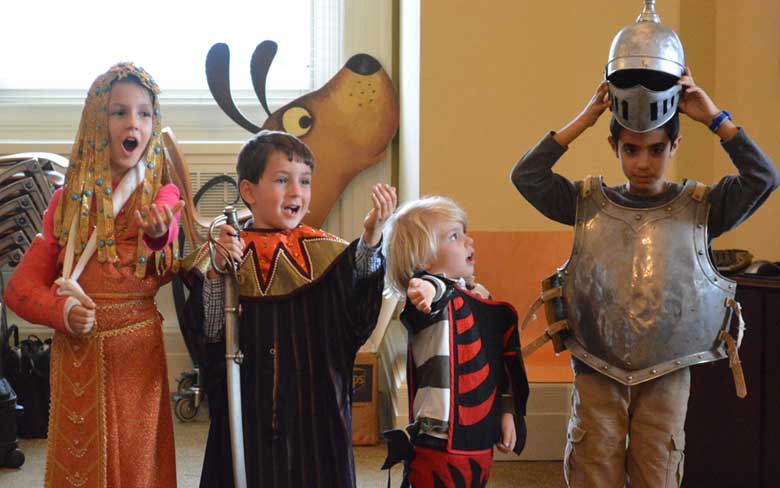 Kyrenia Opera reaches out to educate the music lovers of tomorrow. Through its educational outreach program, Kyrenia Opera brings live opera and multimedia presentations into the classroom and community setting. Kyrenia Opera's commitment to educational outreach has brought performances to students from New York to Washington, D.C. to schools and villages in Cyprus. Students at public and independent schools have participated in The Voice of Opera, where students learn about this great art form, as several participants are transformed into opera singers at each workshop. Additionally, Kyrenia Opera is proud to have been a part of the European Month of Culture in performances at the Kennedy Center.
Following each performance singers and instrumentalists discuss their own roles in preparing and presenting live performance. The artists engage audience members in discussion as they are immersed in the world of opera and live theatre. Through planning and discussion with classroom teachers in advance of our visits, we are able to tailor presentations to each school or community organization.
Kyrenia Opera has been proud to bring performances and educational seminars and to welcome students to performances and dress rehearsals from:
The Pancyprian Music High School, Nicosia, Cyprus
Pyrgos Tylliria Elementary and High School, Pyrgos Tylliria, Cyprus
Limassol Music High School "Marios Tokas"
Larnaca Music High School
Library of Congress, Washington, D.C.
Capitol Hill Cluster School Watkins Elementary School, Washington, D.C.
Patterson Elementary School, Washington, D.C.
Montgomery College Cultural Arts Center, Washington, D.C.
Sidwell Friends, Washington, D.C.
Savoy Elementary School, Washington, D.C.
Holy Trinity School Georgetown, Washington, D.C.
Kelly Miller Middle School, Washington, D.C.
Frank Sinatra School of the Arts, Washington, D.C.
The Cathedral School, NYC.
I.S. 141, Astoria, New York
The Diller-Quaile School of Music, NYC
To inquire about Kyrenia Opera's outreach program, please contact us at info@kyreniaopera.org or 347-781-0983.